Devoted Craftsmen since 1907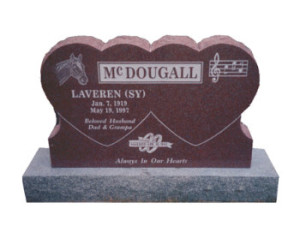 At Brookside Memorials, we take pride in our ability to create personalized memorials in a craft that combines the techniques of advanced stonemasonry with the ancient art of memorialization.
Our founder, a highly-skilled Belgian, upheld a standard of excellence for stonemasonry. His personal commitment to detail and beauty is reflected in the hand-carved stone gates of historical St. Andrew's on the Red, one of his well-known works.
Passing the business on to his family, the founder handed down a legacy of skill and dedication. To this day, this family-owned business of craftsmen excels at its trade. Brookside Memorials remains one of the few places where leaded hand-lettering, gold leaf and extensive hand-carving can still be done. Special skills also extend to design and construction of baptismal fonts, altars, granite columns and other stone art forms.
Over the years we have made memorials for all types of cemeteries, including memorial parks, cremation sites and family mausoleums. Having designed memorials in many languages and for all faiths, our experience in any form of memorialization allows us to offer counsel in selection, construction and installation.